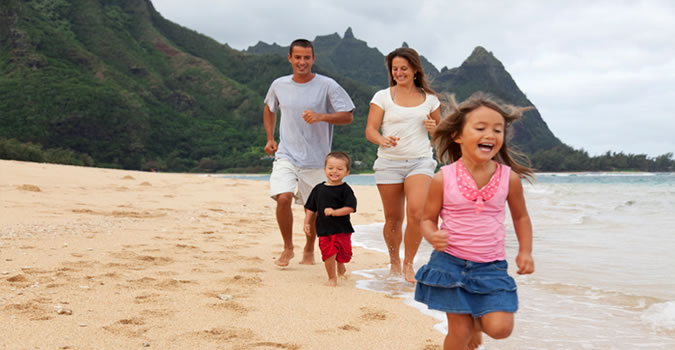 Things to do in Hawaii
Hawaii is the land of plenty. It has adventures, discoveries, beaches, sea life, mountainous terrain, blue waters and, of course, volcanoes. Do you want to slow down and just lounge on a beach or to challenge yourself and learn a new sport like surfing or kayaking? Do you want to walk along the black beaches and swim with the local marine life? Hawaii really is string of islands that offers plenty to do, and the best way to see it is via a Hawaiian cruise. Hawaiian cruises make it easy for you to taste, see, and touch all the wonders of the islands.
There is no shortage of excursions on the islands of Hawaii. Rent a bike and cycle through Hawaii's plush island landscape, offering views of greenery and the ocean. Stop to grab a veggie burger and an oversized molasses cookie or other foods made by the locals. Read a book on a black lava beach. Find out how Hawaii takes its fruit and turns it into sweet-tasting wines. Rent a kayak and paddle among giant sea turtles and peek at the marine life. Visit world-famous Waikiki Beach on Oahu or the most active volcano in the world—Kilauea—on the Big Island. Hawaii is truly a land of plenty.
HawaiiCruises.travel is your ticket to the islands. We specialize in discounted Hawaii cruise vacations. We've been helping travelers enjoy the cruise experience since 1995. Our competitive rates, fantastic customer service, and knowledgeable staff can help you pick and plan your Hawaiian cruise within your budget. Our Hawaiian cruise packages include travel on several of the major cruise lines:
Norwegian Cruise Line (NCL)
,
Royal Caribbean
,
Celebrity Cruises
, and
Carnival Cruise Line
. Let us take care of business for you. We make it easy for you to island hop or to get intimate with your favorite spot, planning excursions and exhausting every opportunity Hawaii affords.
Give us a call at
1-877-721-8085
for discounted rates and free onboard credits or surf our website for incredible deals or to book your next Hawaiian cruise vacation.