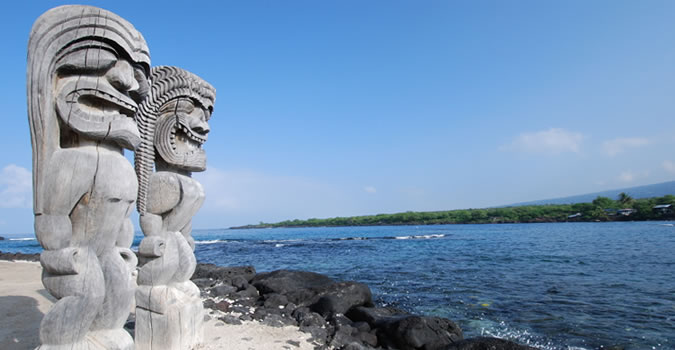 Kona
Kona's string of lava-laced beaches is not only a sight for sore eyes, but they're your door to adventure and the secrets of the Big Island. This is not time to be bashful; this island requires boldness and spirit. A Hawaiian cruise will put you in the center of Kona's winds, clear waters, marine life and land excursions. It's time to see something new, something renewing, something magical.
Kona is approximately 60 miles long and is famous for everything from coffee plantations and volcano adventures, to its historic landmarks and water excursions. The town of Kailua-Kona is home to Kailua Village that's full of nightlife fun, shopping and good food. Try a taste of the original mai tai or take a tour through the coffee farms and see what Kona coffee is really about. Want a caffeine rush? Then bite into a coffeeberry and you'll be fueled for the day. Do you need to be on the water swimming with the best of them? Then take a boat tour to snorkel or scuba with the manta rays and have an unforgettable experience with these beautiful creatures. Are you a history buff? Well, did you know Captain James Cook not only walked the island of Kona, but he was killed on the island as well? Kona was also home to King Kamehameha, where he spent the final years of his life. Cruises to Hawaii are filled with sea turtles, dolphins, scuba, snorkeling and so much more.
HawaiiCruises.travel specializes in discounted Hawaii cruise vacations. Our goal is to open that door of adventure with our highly competitive rates, unfailing customer service and knowledgeable staff. Have a favorite cruise line you like to travel on? Our packages for Hawaiian cruises include travel on several of the major cruise lines:
Norwegian Cruise Line (NCL)
,
Royal Caribbean
,
Celebrity Cruises
and
Carnival Cruise Line
.
Book your cruise to Hawaii today by exploring our website at HawaiiCruises.travel or call
1-877-721-8085
for discounted rates plus free onboard credits. Hawaii cruises are your vehicle to your next paradise excursion.